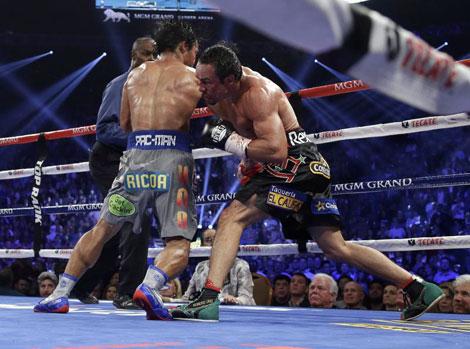 Knockouts are the most beautiful surprises in boxing.
Punches go back and forth, and then *BOOM*, it's over. It's part of what truly makes it "the sweet science". The perfect combination of physical power combined with mental brilliance. The greatest knockouts of all, are the ones that touch you. Some are so incredible you replay it over and over again, others are so painful you don't ever want to see again.
As a fighter, I empathize with the pain of losing in the most embarrassing way possible. It's sad to see a man give it his best and come up short. Every time I see a knockout, it still feels like it's my first time. And the more connected you are in a fighter, the more emotional it becomes. As common as they are in boxing, I still get chills down my down my spine when a fighter gets knocked out. Sometimes they're easy to take; a guy gets dazed and then counted out. Other times, it's serious; it looks like a guy getting killed. It looks like your superhero just died. It feels like your invincible God had become mortal.
As a fight fan, knockouts can be the most satisfying thing in the world. Sometimes seeing your favorite fighter knockout his "enemy" can be the best feeling you've ever had. It's that one thing you've been waiting for all year long. It's like an early Christmas present. You sleep so happy that night, almost as if YOU had just become champion. You can die happy now. All your dreams have come true.
Here are my 10 greatest knockouts in boxing: [Click to read more...]
Click to read more…