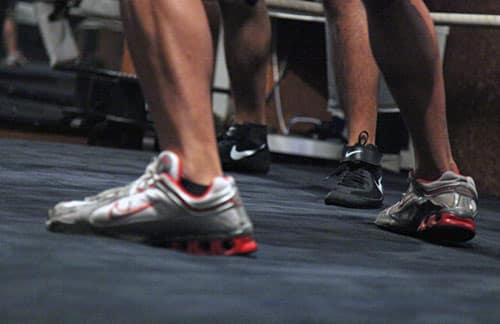 Q: Which piece of boxing equipment is often overlooked by beginners?
A: Yes, it's BOXING SHOES!
Why are beginners especially so resistant when it comes to buying boxing shoes? Well, they don't want to spend any money, they don't see any benefit, and they figure they can just use any other athletic shoes (running/basketball/trainers). Well, I don't recommend that.
And I'm here to explain to you all the benefits and where to buy good boxing shoes.
Benefits of Wearing Boxing Shoes
I know many of you will like to start out boxing by using other athletic shoes that are made for running, basketball, or other sports. I can tell you right now, it's not the same. Wearing real boxing shoes makes a big difference in your performance. In fact, it's probably one of the easiest ways to instantly improve a beginner boxer's performance—put real boxing shoes on him.
A good pair of boxing shoes improves comfort, mobility, speed, and power. It's really that simple. A shoe that's made for boxing will allow you to be comfortable in boxing positions and stances, and allow you to move in the ways that a boxer typically moves. And if you're able to move better, you'll have more speed, and more power.
Wearing boxing shoes improves comfort, mobility, speed, and power.
Many of you will be tempted to do what I did, which is not buy real boxing shoes until way later, until you're more serious, but you won't get to enjoy the fun of how good it feels to wear real boxing shoes. Your feet feel so much lighter, and you move around with so much more agility AND support as you jump around the boxing ring snapping hooks and crosses. You simply have to try it to see what I mean.
Important Features of Good Boxing Shoes
1. Grip & Pivot
This is probably most important and distinct feature of boxing shoes, their ability to grip the ground so that your feet don't slide when transferring power…but at the same time, always allowing you to pivot so you can throw power punches or execute typical fighting footwork maneuvers.
You will find that non-boxing shoes are pretty horrible when it comes to allowing you to grip & pivot. The way non-boxing shoes are shaped at the front can make pivoting a little awkward and also that the non-boxing shoes are either too slippery (don't give you enough grip) or they give you too much grip (making it hard to pivot).
Some fighters will prefer a shoe that's really grippy and they don't mind if it's a little harder to pivot. Some fighters will prefer a shoe that's smoother and pivots easily even if it has a little less grip. The perfect balance for me is when the shoe grips enough to provide stability during power transfer and pivots easily enough while still keeping you connected to the ground. I actually hate when the shoes too grippy because that can make me trip.
Your boxing shoes should provide enough grip for stability,
while still allowing you to pivot easily.
2. Sole Construction & Texture
Now comes the second-most important feature of boxing shoes, the way the sole (the bottom of the shoe) is built. The way your soles are built can impact your ability to balance, move, pivot, and throw punches. First off, on the inside…the soles have to be comfortable and allow you to stand balanced. You shouldn't feel like your axis is off-balance when you stand in your boxing shoes. You also shouldn't feel like the shoes are forcing your feet to angle slightly towards the outsides or the insides. You'd be surprised by how common this problem is. If the insoles are feeling weird or making you off-balance already, maybe you can replace them with custom soles…maybe not.
The next thing is to get a feel for the thickness of the sole (the outside bottom part). Some guys like a thinner sole so that they can feel the ground more. You may feel more agile and lighter this way. Some guys like a thicker sole, you feel less ground but possibly more powerful. You have to try it to see what I mean.
I personally like a thinner sole and feel more powerful with that. I do notice that thinner soles can tire out your feet quicker because of less support. (It's similar to how those Vibram Five Finger shoes give your feet an extra workout.) Then again, my feet are strong, well-conditioned and that "extra work" doesn't bother me one bit. For a beginner, they can make a difference but you get used to it quickly.
What you don't want is a sole that is too thick that you feel too disconnected from the ground, this is common with many non-boxing athletic shoes. Shoes made for basketball will have all this cushioning in the sole that prevents you from connecting with the ground for maximum power. You may also notice that non-boxing shoes (and sometimes even some boxing shoes) have a raised heel which can prevent you from sitting down for maximum power on your punches. (Sometimes you have to be able to sit down on your heels for maximum power transfer, or to be able to push back an opponent.)
Another thing is the outside texture of the very bottom of the shoe. Some of you may like a flatter surface where it feels like you're standing directly on the ground. You of you might like ridges or the little bumps (kind of like soccer cleats) because it feels like it has more grip. I personally like a flat bottom. I hate the bumps because it makes me feel more disconnected from the ground and also like I have less balance when I'm just standing. The bumps also make me feel like I'm standing on rocks (annoying). Keep in mind that I have wide feet, so maybe I might like the bumps if they were rearranged for wider feet.
The last thing to note is the construction of the toe and the heel. Some of you may like a shoe where the sole wraps up and covers the toe and the heel areas. This can make the shoe feel more durable and feel more grippy overall. Some of you may prefer where the sole is only on bottom and the toe and heel areas are surrounded by the soft uppers, this might feel lighter, more mobile or more comfortable to you.
Your boxing shoe soles should allow you to feel balanced and light.
3. Weight & Thickness
The overall feel of your shoe should have a desired weight and thickness. For me, the feeling of weight and thickness is determined by the material used as well as the mobility allowed. A feeling of lightness comes from a lighter and thinner sole, lighter and thinner uppers, and lots of freedom in the ankles. The moment the shoe starts adding on a thicker sole, or lots of fabric and upper material, or restricting ankle movement, the shoe starts to feel heavier.
Should you go thick and heavy or thin and light? This is really up to you. A light and thinner shoe will feel more agile and possibly more powerful if you like to feel the ground. A thicker and heavier shoe can feel more supportive and also more powerful because you feel like it's unifying your knee, ankle, and foot together with every movement. Those who like lighter shoes will complain that a thicker heavier shoe is restrictive and/or slows down their foot-speed.
Your boxing shoe should feel thin enough to be light and agile,
thick enough to provide support for power transfer.
4. Height & Ankle Support
One of the most important tasks of a boxing shoe is to protect your ankles. As you already know, ankle injuries are common in sports where you're jumping around, changing angles often, and constantly putting force on your ankles from all directions. Boxing can definitely put force on your ankles and knees depending on your fighting style.
You have 3 choices of shoe-heights in boxing – LOW, MID, and HIGH. The low-tops go about as high as the ankles. The mid-height shoes go a few inches higher than that, and the high-tops reach almost to your calves.
Conventional wisdom goes, "the higher the shoe, the more ankle support you get." So if you want lots of ankle support, get the high-tops. If you want lots of mobility, then get the low-tops so your ankles have more freedom to move. This has a lot to do with how your joints are made. If you're the kind of guy who sprains his ankles every now and then, you should probably go with the high-tops. It has a lot to do with genetics, fighting style, and personal preference. I have strong ankles and I love low-tops.
There are a few extra things to consider. First off, low-tops come in varying ranges of "low". Some are below the ankle, some are right on the ankle, and some are even above the ankle. While that may or may not matter in terms of ankle support, they do feel very different. So even if you want low tops, I recommend you try out the different ranges of low-tops if you want to be a perfectionist.
When it comes to high-tops, you should know that different models fit differently. Some high-tops might feel too loose at the ankles (still not enough ankle support) whereas others might be too loose on the lower shins (lacking support or feels annoying). Some might feel annoying or restrictive on your calf muscle. Do remember that every body is different. Some of you have longer or shorter legs, thicker or thinner legs, thicker or thinner calves, different ankle builds, or wear thinner or thicker socks. All of these things have an effect.
Your boxing shoes should feel mobile,
while providing ankle support for power and safety.
I have noticed that high-tops are not only good for ankle support but can also make you feel more powerful when throwing punches. I don't think it's so much that the shoe actually gives you support and makes you more powerful. My theory is that because the shoe is bigger and touches more of your leg, you become more aware of your entire lower leg and move more of your body in unison together which then gives you more power and support. I do feel like the guys with high-tops are less likely to jump around into weird overly-crouched or contorted positions (because the shoes are less comfortable when you do that) and so their legs are more often in positions that give more balance and power.
5. Comfort & Width
Comfort and width are a matter of personal preference. You will know what feels good to you by trying on different pairs of shoes. My suggestion? Ask your friends at the local boxing gym if you can stick your feet into their shoe. You'll be able to quickly scratch off the brands and materials that feel annoying to you.
The materials used and how they are stitched or glued together will have the biggest impact on comfort if you ask me. Some materials can be bothersome or feel like they restrict your feet, like the shoe doesn't want to let your feet spread or bend or push off the ground at the angles you want. Some shoes can pinch your feet uncomfortably at the front (not letting you press off the balls of your feet comfortably) or they pinch at the back and give you blisters. Or even the insoles can give you blisters.
For me, the biggest problem when buying shoes is the width. I have super wide feet and when I wear shoes that are too narrow, they don't allow my feet to flatten against the ground for maximum stability. I also feel like I have less balance because the shoe underneath my foot is narrower than the foot itself. I imagine the opposite can also be true, if your feet is too narrow, you want a shoe that is similar in fit or at least has laces that allow you to tighten it up, or else your feet or toes will have too much room in there.
Your shoe should allow fit snug and comfortably,
without restricting movement or causing blisters.
6. Quality
It goes without saying that quality is very important. You want your shoes to last a while. As long as you're using a top name-brand shoe, you'll probably be alright on this. If you want to inspect a shoe to see where quality matters most, I would say it's to make sure that the sole is constructed well and that the bottom of the shoe doesn't look like it's going to peel off when the shoe wears out. In case it does, you can use Shoe Goo or take it to a shoe repair shop to glue it back on.
Top Boxing Shoe Brands
1. Nike
I like Nike shoes the best because they fit my feet the best. They are very comfortable, good performance, durable, and also very stylish. If I didn't know any better, I would guess they are the most popular boxing shoe brand. Nike boxing shoes are conveniently located in several price ranges, heights, and styles. Nike makes high performance, affordable and stylish boxing shoes.
Nike Speedsweep (lo-top) $50-70
These are my favorite and the ones I use (also sold on Amazon as "wrestling shoes"). My shoes were actually the "Nike Lo-Pro Boxing" shoes but very similar to this one. My current pair has lasted 6 years easily and only cost me about $35 back in the days (you can find these online for as low as $50). They feel good. Very light. Awesome grip so my feet don't slip at all when I'm moving around. When I plant my heel into the ground, my feet become super anchored for maximum stability.
I have strong ankles and love having freedom of movement and agility over support and rigidness. This is why I chose a low ankle design to complement my style of movement. The shoes help my punching power by allowing me to sit down on my punches as well as pivoting easily on the balls of my feet. They're great for the price and I highly recommend them. (I'm 5'7″, 140lbs, strong ankles, flat arches, small calves, like thin socks—if you care.)
NOTE: please check pricing on TitleBoxing and other boxing stores before buying from Amazon. Amazon is not always the cheapest price!
Nike HyperKO Boxing Boots (high-top) $150+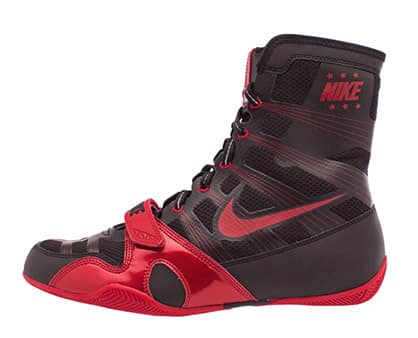 Many boxers have this recent-model high-top Nike boxing shoes nowadays. They're replacing the old Nike Machomai's that everybody used to wear. I've heard great things since as that they're extremely lightweight, very supportive, appear to be long-lasting, comfortable and high performance.
2. Adidas
Adidas is the other top boxing shoe brand that I would use if I wasn't using Nike. I don't use Adidas because it feels different from Nike. It's not that it's bad, just that it feels different and weird because it's less familiar. Maybe this has to do with the fact that I wear Nike shoes more often than Adidas. Another thing I would say is that Adidas is probably more popular in Europe. I remember when I went to sports stores in Germany, I often saw more Adidas boxing gloves and boxing products than I did for Nike.
Adidas Champ Speed III Boxing Shoes $50-70
This is probably the most popular Adidas boxing shoe I've seen. I feel like most Adidas boxing shoes I see in the gym are typically either medium or high-top. In case you want to buy, please check prices at www.titleboxing.com, they might be cheaper there.
Adidas Combat Speed IV Boxing Shoes $50-70
This is like the Adidas equivalent of the Nike Speedsweep. It's basically a low-cost, low-top, good thin lightweight boxing shoe. Be careful: some people complained that the wrestling version is too grippy to pivot.
Adidas Box Hog Boxing Boots $100
In case you were looking for the older (yet also popular) Adidas boxing shoes, this model was very popular. Some people even liked these more than the seen-everywhere Nike Machomai boxing shoes. You can probably search on Google for other websites that sell for cheaper.
3. Grant, Reyes, Rival
I've never tried any of them, except for a pair of Rivals once (and I didn't like the fit). My feeling on these brands is this: they are quality brands but not shoe experts. I imagine Grant and Reyes to be made of high quality leather and maybe take in some break-in time but it won't mold to your feet as Nike or Adidas right off the bat. And I imagine Rival to be built more like a Nike and Adidas in how it molds to your feet.
There are also several other high-quality brands or custom handmade shoe-makers out there. They'll offer you a quality shoe made completely with high-end leathers. My biggest tip to you is to make sure the shoe is breathable. I imagine that an all-leather shoe might feel hot and sweaty. I haven't personally experienced this but that's what I would be worried about.
Rival Guerrero Boxing Boots (low-top) $80
A popular model for Rivals. Comes in many cool color combinations.
Rival RSX Boxing Boots (high-top) $90
Another stylish boxing shoe from Rival.
4. Everlast, Ringside, Titleboxing
These companies, in my opinion, are the HELL-NO brands. I will never buy or use them. I hear of too many complaints with their quality. I will have to admit that I haven't used any of them for extended periods of time. (Based on the initial fitting, I didn't want to.) Not surprisingly, I don't see these brands as much in the gym. I would say they are inferior in quality, comfort, styling, and their cheaper price often reflects that.
I did put my feet into some Everlast boxing shoes and also a pair of Titleboxing shoes a couple of times (just to see). They felt awful on my feet, not comfortable at all, and really cheap. The shape and the material didn't mold to my feet, you feel like it was made for robots or something. And then factor in the rumors about poor quality and I just felt so much happier going back to Nike, which has always felt great. (For those who don't know, Tomasz Adamek's Everlast shoe tore off in the middle of a fight.)
5. Asics, Lonsdale
There used to be a time when Asics made these super cheap boxing shoes for $24.99. Some guy in my gym got them and I tried them on and man, what a piece-of-crap they were. I never went back to Asics. Thing is, they do make good wrestling shoes at higher price points, so I imagine they would be able to produce good boxing shoes. Maybe you'll like them, I think they're worth a try.
Lonsdale to me is like the Everlast of the UK. They make consumer-grade boxing products for the casual boxer-athlete market. I'm going to guess their quality is similar and that their boxing shoes are probably not all that. Then again, I've never tried them so I can't really comment on it.
Luckily, many of these brands can be even be found at regular sporting goods stores, so you can try on different models and see which shapes and features you like.
What boxing shoes are most popular in gyms?
Can you use wrestling shoes for boxing?
Some people will even wear wrestling shoes. I hear wrestling shoes can be used for boxing (whereas the reverse is not recommended). I've never tried and I imagine it probably might be ok considering how similar the wrestling shoes are built to boxing shoes. I imagine wrestling shoes probably have more grip on the outside edges than boxing shoes and built to be more durable considering the sport has you scrambling along the ground at all angles. Whereas boxing has you mainly stay on your feet so boxing shoes might be built more to be lightweight rather than for a complete 360-degree all-around durability.
I have also heard that wrestling shoes are bit more grippy than boxing shoes (which is bad because it will be harder to pivot). You may also notice that shoe models will be sold both for wrestling as well as for boxing. Just beware that if you're going to buy wrestling shoes online, read the reviews to make sure they say it lets you pivot on the balls of your feet.
The most popular boxing shoes
Nike and Adidas will always be the most popular (Nike still way more popular than Adidas). If those two brands don't suit your taste, try going for Rival. If you want to spend lots of money for custom gear, try Grant. Asics and Rival can also be seen sometimes. I think Rival might be more popular depending where you go.
I feel that only amateurs and smaller guys will wear low-top shoes. Bigger guys and taller guys, tend to go for med or high-tops. I also noticed Adidas (when you do see them) are more often worn by the seasoned fighters, not so much by the newbies. Pros and seasoned amateurs are more likely to wear high-tops. If it matters to you, I would say about 80% of pro boxers wear Nike med-top boxing shoes, the other 20% wear Nike high-tops.
Leave a comment below and share what experiences you've had with different brands and models of boxing shoes. Describe your body (height, weight, thick or thin calves, wide or narrow feet, flat or high arch), what boxing shoes you bought, and your experience with them (comfort, performance, durability).
Looking for other boxing gear? Check out my: