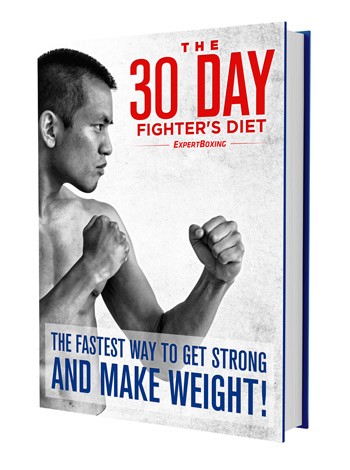 The FASTEST way to lose weight!
The fighter's diet is a proven diet used by competing fighters over the past decades to get in shape and lose weight quickly. I've broken down all the essential steps into a 30-day diet plan with detailed instructions, schedules, charts, recipes, and food lists, all packed into a 180-page eBook.
Find out why the fighter's diet is the fastest way to increase performance AND lose weight!

Why the FIGHTER'S DIET?
GET STRONG – more energy, more power, better performance.
GET RIPPED – lose weight, make weight, look great.
GET IN SHAPE QUICKLY – competitive fighters have used these same dieting tactics for decades to lose weight in time for their fights.
What is the fighter's diet?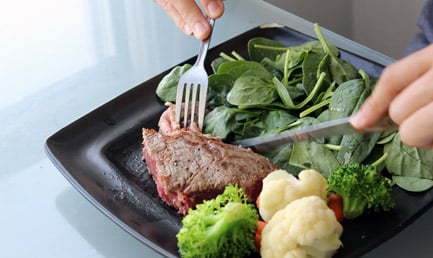 The "fighter's diet" is a strict diet used by competing fighters, professional and amateur, over decades with great success. The reason why it's so popular is because it's the fastest way to increase the fighter's strength while decreasing his body fat.
The separation of weight classes in combat sports has made it every fighter's goal to weigh in as low as possible. Not only do fighters have to lose weight quickly, they have to do it often. The average fighter must lose weight 5-6 times a year whereas the average person has tried weight loss maybe only a few times in his entire life.
You could definitely say that fighters are seasoned veterans when it comes to rapid weight loss. They've developed many tricks and secrets to rapid weight loss over the years and that's what I plan to share.
The typical dieting experience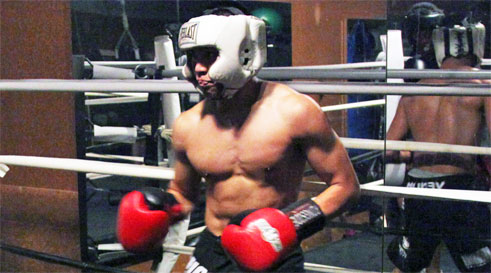 When I first started boxing, the only thing I cared about was increasing my physical strength. Bigger muscles, more power, more speed, more endurance—I wanted everything. My approach to dieting at the time was TRAIN ALOT & EAT ALOT. And it worked…I was ripped.
It wasn't until I wanted to compete that I found myself in the same boat as everyone else. This included other lean fighters, bulky guys, "average" guys, the fat kids, EVERYONE. What we all had in common was the same fear—FIGHTING BIGGER OPPONENTS.
We weren't losing weight to impress the girl next door (although that's nice, too), we were dropping our weight as low as possible to fit into the smallest weight class possible. The smaller our opponents, the less powerful they were and the more likely we would win. We weren't trying to win a beauty contest, we were just scared for our lives.
This fear drove many fighters into making painful mistakes. It was common to see fighters severely weakened by starvation, dehydration, or weight loss drugs. And it's damn near impossible to win a fight when you show up at less than your best. The worst part about fighting isn't the dieting, it's getting destroyed when you've worked so hard to win.
How the 30 Day Fighter's Diet works
The fighter's diet, as ANY successful diet should be, is a periodized dieting program.
The average diet plan fails because it limits you to a list of "good foods" and "bad foods" and then hold you to a painfully strict diet for a set time. Sometimes, it's a really silly rule such as "don't eat carbs" or "eat more grapefruit" (I'm not making this up). Not only is this inflexible but also not effective for everyone. If anything, many diets require either an overly strict diet or some form of starvation to have any success!
The reason why a periodized dieting program is so much more effective is because it's dynamic, meaning that the diet adjusts to your body as the weeks go on. Learning how to diet is really about learning how to adjust your diet every week for everlasting improvements. You wouldn't expect to get stronger doing the same workout routine week after week, so why use the same approach with dieting?
The fighter's diet starts you off by getting you used to eating the right foods in the right portions at the right time. As the weeks go by, you'll learn how to trim down your portions and be more selective about what you put in your body. This process only takes 30 days. You could certainly recycle this diet over and over to maintain your health but typical fighters only need 30 days to get into optimum shape.
My proudest feature of this book is that I've made it as easy as possible to finally eat healthy. Once you know the rules of healthy eating, you can do whatever you want. You won't feel limited to a few foods, or forced to become a gourmet chef. Like I said—IT'S EASY!
I've seen this diet tear 10-30lbs off my fighters in a month, fight after fight, year after year. And I'm confident it could work for anyone! It works even for non-athletes…although working out wouldn't be a bad idea.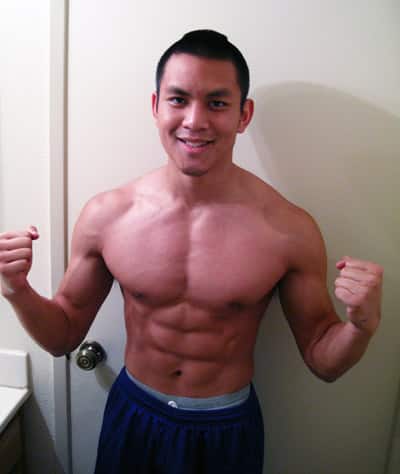 "The 30 Day Fighter's Diet" (eBook)


BUY IT NOW FOR $34
180-page eBook — broken down into 10 detailed chapters. Learn what to eat, when to eat, how much to eat. Complete with lists of foods, recipes, and diet plans to guide you through 30 days and beyond. Plenty of helpful charts, lists, links, tips, and printable worksheets to help you GET IN SHAPE FAST!
Fighters — get the exact diet plan to guide you from day one to fight day. Learn how to schedule meals around workouts, fighter's supplements, what to eat on the day of the fight BEFORE & AFTER weigh-in. Get strong & make weight in 30 DAYS!
THIS IS A DIGITAL EBOOK — no physical book will be shipped to you. The eBook is in PDF format, downloaded through the internet (available anywhere worldwide).
CLICK to see actual pages from the eBook
Here's what you get…
Chapter 1: WHAT to Eat – the most important nutrients and the foods that have them. Basically a newly revised edition of my popular "Common Sense Boxing Diet" but with better spelling and grammar. I have also included some helpful consumption guidelines.
Chapter 2: WHEN to Eat – find out when to eat so you feel energetic instead of tired or hungry. Still a revised edition of the Common Sense Boxing Diet but with actual examples of meals.
Chapter 3: Advanced Nutrition – learn about the most impactful dieting choices. Where to get the best carbs and proteins, the healthiest foods and the most nutritious ways to prepare them.
Chapter 4: Bad Foods – identify the absolute WORST FOODS and most harmful ingredients. I go over 20 sweeteners. Then learn how to "cheat" without ruining your diet.
Chapter 5: Fighter's Supplements –  discover the little known supplements that increase performance & recovery, and dispel the rumors behind unnecessary supplements. Find out what vitamins my nutritionist prescribes to me and the superfoods I take for extra energy.
Chapter 6: Fighter's Nutrition – a recap on the requirements of a fighter's diet and how to increase your nutrient intake for more energy without over-eating.
Chapter 7: Meal Plan – a 30-day example meal plan scheduling every meal from day one till fight day. See how I gradually make small adjustments to your diet from Week 1 to Week 4.
Chapter 8: Making Weight – a whole chapter dedicated to perhaps the most challenging part of the fighter's diet. I share essential tips to making weight safely, a list of 5 best foods for making weight, and how to rehydrate after the weigh-in. Stop the suffering!
Chapter 9: Meal Recipes – over 60 SIMPLE HEALTHY recipes for breakfast, pre-workout, post-workout, and snacks in between. I also included recipes for gluten-free, vegan, and vegetarian. PS: I made sure all of them can be prepared in 15 minutes or less!
Chapter 10: Helpful Resources – printable cheat sheets, worksheets, lists of foods, nutrient charts, and my sample grocery list to help you remember all the little details of dieting. I've also included helpful links to many great websites.
BONUS Chapter – 100 extra tips for exercise, dieting, and weight loss.
DISCLAIMER*
The fighter's diet was designed to be a healthy athlete's diet for fighters and non-fighters. I am not promising instant weight loss or corrected eating habits overnight. What you get out depends on the work you put in. Everyone's results will vary depending on their level of health and other personal factors.
PS: Got questions about the diet guide? Leave a comment below or send me an email and I'll answer it right away.