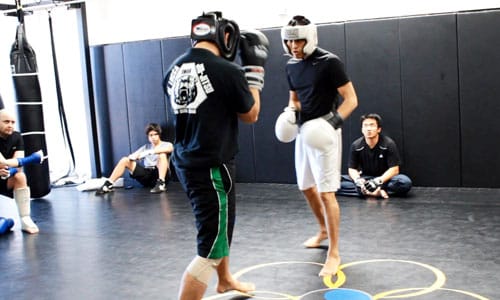 Boxing can teach you more about fighting than you might ever realize.
Those who've never tried boxing could easily say:
Why bother with a limited fighting art that only uses the hands?
No kicks, knees, or elbows? Boxing isn't real fighting.
Boxing is only about landing the knockout punch, anyone can get lucky.
Boxers have bad punching technique.
Boxing is so unskilled, it just looks like a brawling street fight.
Those who HAVE tried boxing could easily say:
Boxing is tough. Tough training, even tougher competition.
Pure athleticism. Raw speed, power, and endurance. Tiring and painful.
Incredible reflexes and extremely fast fight reaction time.
Very skilled, commonly misunderstood and under-appreciated fighting art.
Very humble fighters and learning environment.
All fighters, mixed martial artists, could benefit from learning how to box. Even if you don't care for boxing techniques or boxing punches, you could still learn a lot. Boxing can make you a better athlete, improve your reflexes, make you smoother, and more comfortable in a fight. There's a reason why all MMA camps have dedicated boxing trainers on staff.
Here are my 5 reasons why EVERY FIGHTER should pick up some boxing skills:
Click to read more…