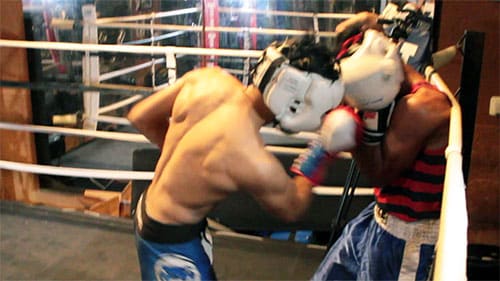 Learn how to pressure and break down opponents with inside-fighting.
Many boxers don't like fighting on the inside. It's not how they were taught to box and it goes against common sense. Why get closer to your opponent so he can hit you easier? Inside-fighting becomes this dumb risky move that you do only when you absolutely have to. I had to do it every time I was tired or getting jabbed to death. I hated it but I learned something…
There are ADVANTAGES to inside-fighting:
PRESSURE your opponents physically and psychologically
NULLIFY opponent advantages in power, speed, defense, skills, height, reach
FRUSTRATE aggressive or defensive opponents
STALL a fight or take a break by preventing opponents from punching
TIRE out your opponent without burning your own energy
CONTROL your ground and wrestle your way out of bad positions
DOMINATE in the ring by using your presence
Having inside-fighting skills can do wonders for your fighting ability. For one, it guarantees that no matter how deadly your opponent is, you will always be comfortable even up in his face. And second, you have a skill that many fighters do not have. This means you'll be that much deadlier in the ring because fewer opponents will know how to deal with you at this range. I'll teach you how to walk down any opponent and push him around to make room for all your punches on the inside while effortlessly avoiding his.
(Make sure you watch my attached Youtube videos to fully understand the techniques.)
Click to read more…